Bookmarks
Bookmarks not only can they be used to keep your place, they can be collectable too!
If you have been directed here by one of the images in the Galleries, and can not find a specific listing, please contact us for details as we don't itemise all bookmarks that are available.
Geoff received permission from Games Workshop, who own the copyright, to produce a limited edition set of bookmarks, based on some of the art he created for them

There are 15 different paintings that were selected for the bookmarks. Each bookmark has 2 images, each image is 2 x 8 inches (5cm x 20cm), in a protective semi-rigid plastic sleeve which measures 2 1/4 x 9 1/2 inches, with a coloured tassel, though the colours of the tassels are likely be different to those shown below.

Only 20 bookmarks of each painting were ever made. These are signed by Geoff and numbered. So not only do they start off as being highly collectable, we could even say rare !

All sold.
Limitation
20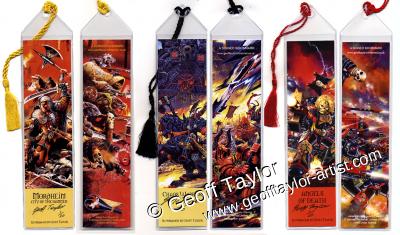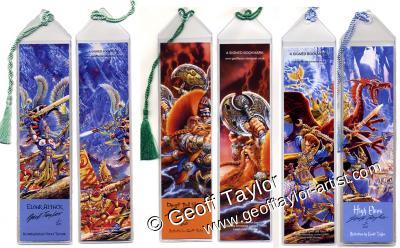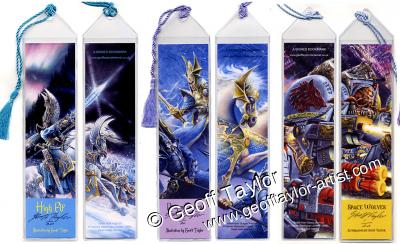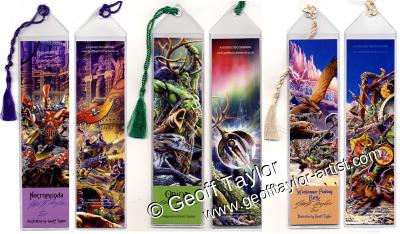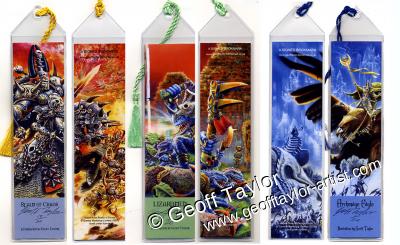 Chronicles of Ancient Darkness: Bookmarks
Chronicles of Ancient Darkness: "Wolf Brother" Book 1, "Spirit Walker" Book 2, "Soul Eater" Book 3, "Outcast" Book 4, "Oath Breaker" Book 5 and "Ghost Hunter" Book 6

* Limited edition of 35 signed and numbered BOOKMARKS

Designed using images that Geoff created from the books. Each Bookmark is signed and numbered by Geoff, there are a selection of illustrations on the reverse side. Here the photos show both sides of the Bookmarks. Each side or picture is approx 2 x 8 inches in a protective semi-rigid plastic sleeve which measures 2 1/4 x 9 1/2 inches, with a coloured tassel, though the colours of the tassels are likely be different to that shown here.

Only Soul Eater, Oathbreaker and Spirit Walker bookmarks left. Only available here.

£15 each including postage in UK
Limitation
35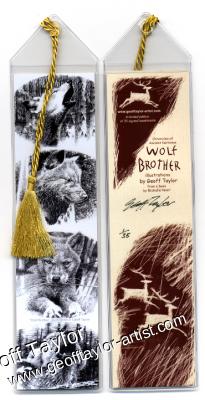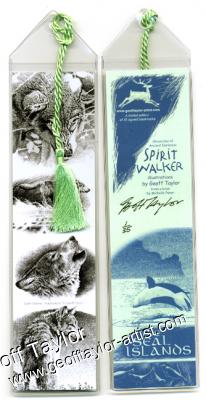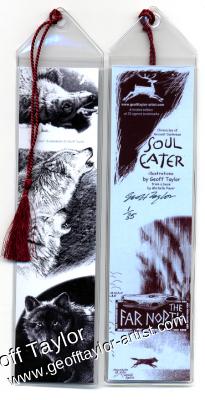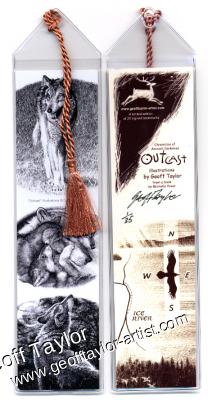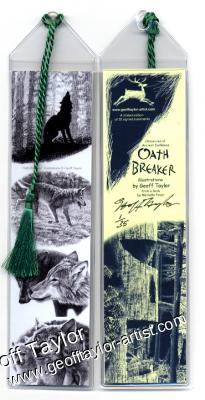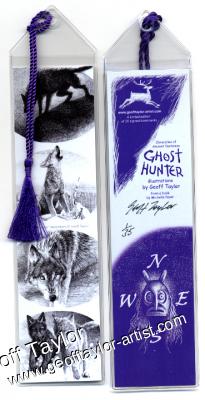 Gallery Link
Visit the Gallery to see the Art