Biography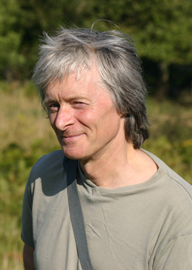 Born in Lancaster, England. Educated at Eckington Westfield School in Sheffield, followed by a 3 year Graphic design course at Chesterfield College of Art. After Five years or so of working in Advertising agencies in Nottingham, Geoff turned to Illustrations, and book Cover Art.
One of Geoff's first commission was in 1976 for "Counter Clock World", by Philip K. Dick, in turn this has led to him illustrating covers for most of the top Science Fiction/Fantasy writers of our time, including JRR Tolkien, Raymond E. Feist, David & Leigh Eddings, Michael Moorcock, Roger Zelazny, Katharine Kerr, David Zindell, David Gemmell to name a few. Also children's books, who's authors include Nina Bawden, Rosemary Sutcliff, and Cliff McNish. And illustrations for Michelle Paver's Chronicles of Ancient Darkness series, plus many other authors, and for several publishing companies around the world.
Geoff was one of the original illustrators for the legendary Jeff Waynes Musical Version of The War of the Worlds album, a signed limited edition series of the four illustrations was printed, on licence from "Jeff Wayne Music". Some prints are still available contact us by email.
Since 1991 he has painted some of the rich imagery for "Games Workshop" and their unique Warhammer World, in addition to painting covers for the Black Library, an offshoot of Games Workshop, and gaming cards for Sabertooth Games.
Geoff has been inspired by the local story of "The Last Wolf" in England, reputedly killed at Humphrey Head, Cumbria in the 14th Century, and has produced a piece of artwork, and a print, to illustrate the event
Perhaps his true passions are best reflected in his wolf paintings and other wildlife art, and his now burgeoning photographic record of the deer, and landscapes around Cumbria and the Yorkshire Dales. He now lives with his wife Marianne in the "Arnside and Silverdale Area of Outstanding Natural Beauty".