From Concept to Realisation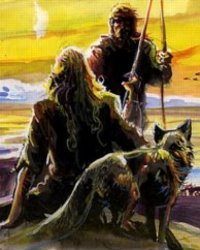 The following images are provided to give an idea of the difference you may expect to find from the concept or visual sketch and the final artwork. The images shown here are not as sharp as the original, they are used to give a general idea of how elements of the picture could change.
The Plains of Passage (yellow version)
this visual was chosen for the cover of
the book by Jean M Auel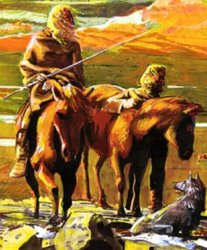 Remember though, that a visual only gives an 'artist's impression' of the finished artwork. As the painting progresses, refinements will be made, more detail added, colours adjusted. All this happens as the artist better realises his goal.
This visual was passed over in favour of the other one above,
as the author preferred them not to be on horseback,
whilst also preferring the back view of Ayla.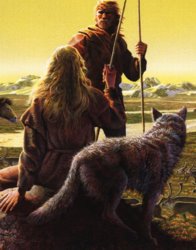 Geoff has been painting covers for books since 1976. Rely on him to use his professional skills to provide the best composition he can.
If your commission is for a book cover, he will, if asked, offer suggestions for the layout of the title, and authors name. Or if you already have a preference, he can take it into consideration when planning the composition.
Here is the same scene but from
the finished artwork.
If there is something specific that you want to have on the cover, such as a 'golden sword', or 'pink castle", be sure to mention this at the outset, as making major changes to a painting is not easy, and may not even be possible. It may even need to be painted again.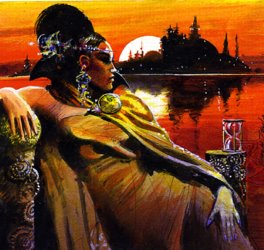 In this comparison of the visual (right), and finished art (below), for the Daughter of the Empire v2 by Raymond E. Feist and Janny Wurts , you will see the headdress changes, the way the light illuminates the figure, the hands are more relaxed. The whole image has become realistic - she could exist!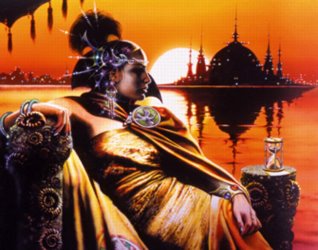 The visual sketch (below left) for the Lament of Abalone by Jane Welch, hints at ornate carvings, indicated by a sketchy impression, whereas the finished art (below right), is rendered to look like it could be inside the great hall of a magnificent palace.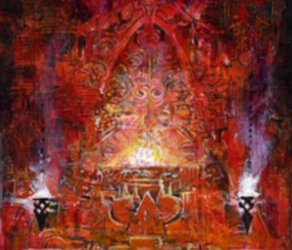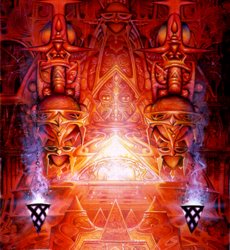 For Sky Trillium v2 by Julian May, you will notice in the finished artwork on the right, the main character has a change of hair texture, and her jewellry has more substance.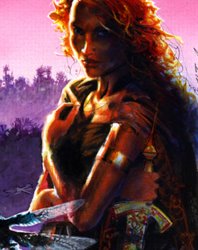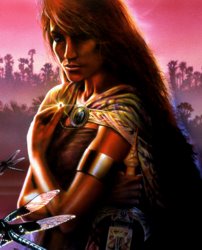 It's good to remember, the visual is done with a degree of spontaneity, whilst the finished artwork is worked with references to reality, using models, photographs of landscapes, etc. ensuring the final composition is believable.
For these reasons, the finished paintings will never look exactly like the visual or concept art, they will look better!